Mini Optical Power Meter, Handheld
Mini Optical Power Meter, Handheld
General Details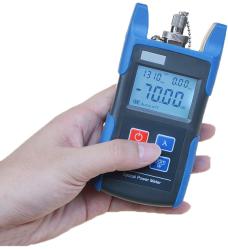 OPM-H48 Mini Optical Power Meter is a small size, pocketable fiber test instrument. The applications cover the installation, operation, and maintenance of a fiber-optic network.
Our OPM-H48 optical power meter can test optical power within the range of 800~1700nm wavelength.
We have 6 wavelengths of 850nm, 1300nm, 1310nm, 1490nm, 1550nm, 1625nm calibrated in it.
Features:
Mini optical power meter
6 wavelengths of 850nm, 1300nm, 1310nm, 1490nm, 1550nm, 1625nm calibrated
Small size, easy to operate
6 operation wavelength
Suitable for single-mode, multimode fiber
Specification:
| | | |
| --- | --- | --- |
| Sub Model | OPM-H48A | OPM-H48B |
| Measurement Range (dBm) | -70 ~ +10 | -50 ~ +26 |
| Wavelength (nm) | 800 ~ 1700nm | |
| Detector | InGaAs | |
| Accuracy | <±3% (-10dBm, 22℃) | |
| Calibrated Wavelength (nm) | 850, 1300, 1310, 1490, 1550, 1625 | |
| Resolution | Linearity: 0.1%; Non-linearity: 0.01dBm | |
| Optical Connector | FC/SC/ST (FC-LC converter is optional) | |
| Power Supply | Alkaline Battery (3pcs AAA batteries) | |
| Battery Operating Time | >120h(without backlight) | |
| Operating Temperature (℃) | -10 ~ +50 | |
| Storage Temperature (℃) | -20 ~ +70 | |
| Relative Humidity | 0 to 90% (non-condensing) | |
| Dimension (mm) | 130 X69 X29 | |
| Weight (g) | 160 | |
WordPress Tables Plugin